The role of Paul McCay in theft of my Rolex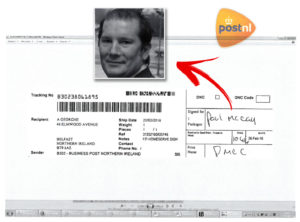 Paul MaCay from Belfast plays an important role in the theft of my Rolex 168000. He knows the thief and refuses to respond. As mentioned before, Mark Stenner stole my Rolex Submariner 168000 using Ebay and PayPal. He bought it on Ebay and paid by Paypal, so I sent him the package with my Rolex. Two weeks later the money was withdrawn by Mark Stenner. I then had no Rolex nor my money (over £ 5000).
The package was delivered on Elmwood Avenue 46 BELFAST BT96AZ and Paul McCay accepted the package. He signed for it (see picture). Since he is the one who accepted the package with my Rolex Submariner 168000, he must know what happened to it. He gave it to mister Gheorhe Andrew or even to the thief Mark Stenner himself.
Paul McCay does not respond
I tried to get in contact with Paul McCay several times and several ways. But he does not respond to e-mail nor phone. I contact him over LinkedIn several times but no respond what so ever. I mailed in 2016 to his company e-mail at Black Fox Solutions where he worked at the time of the theft, but also no reaction.
Here is what I know about Paul McCay so far:
Name: Paul McCay
Work: since jan 2017 Senior Recruiter at Spectrum Employment Solutions. At the time of the theft he was a Senior Recruiter at Black Fox Solutions
www.spectrumes.co.uk
Spectrum Employment Solutions: Unit T4 – Cookstown Enterprise Centre – Derryloran Industrial Estate – Cookstown – Co Tyrone BT80 9LU
Telephone Spectrum Employment Solutions: 028 8676 0044
Email: paul@spectrumes.co.uk
Address Black Fox Solutions (2016): Elmwood Avenue 46, BT96AZ, Belfast
Telephone Black Fox Solutions (2016): 02890994111
E-mail Black Fox Solutions (2016): paul@blackfoxsolutions.co.uk
If you have any information about Paul McCay or about my Rolex Submariner 168000 with serial number R594905 please contact me. Any information about Andrei Gheorghe and Mark Stenner is welcome as well.